What Qualities of Good Law Student Have? 
Law is one of the most rewarding careers. It is challenging and at the same time has lot of monetary benefits. Law is open for all the streams. One who is passionate for understanding the legal system of the country and is looking for a challenging job, Law is the perfect choice. In recent years there has been an increase in the demand of law graduates in all the diverse fields. Most of the law graduates are looking for untapped and emerging fields of law such as Environmental Law, Competition law and many more. They are no longer restricting on traditional areas like civil and criminal law. The qualities that make you a great law student are similar to those of a great lawyer.


List of Qualities of Good Law Student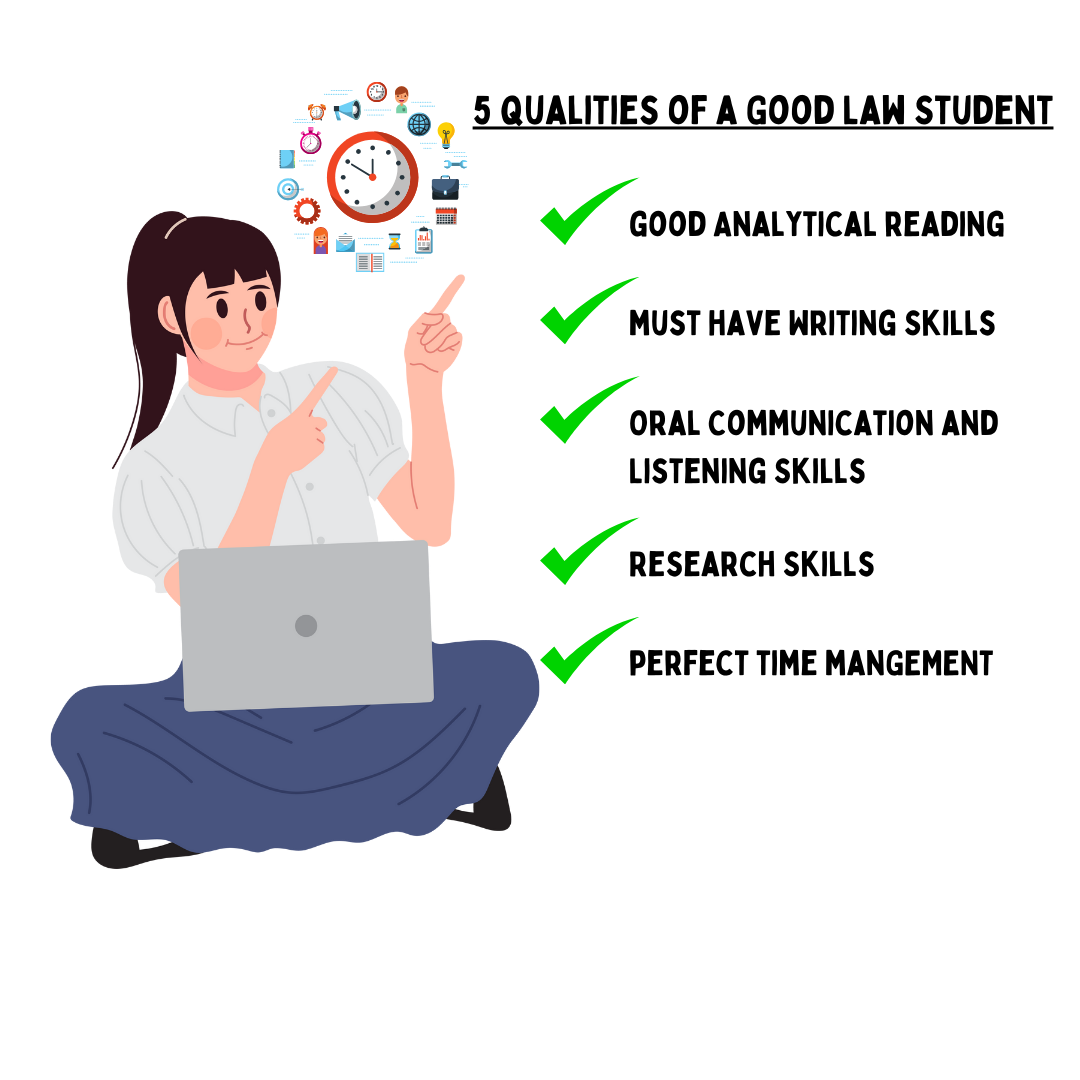 Tip 1 to become a good law student: Analytical reading
Law students require critical analytical and reading skills. As a lawyer you need to carefully read all textual material. Comprehension of judicial opinions, statues, documents, and other written materials are required. So, you need to start reading which will help in improving analytical skills.
Make reading a part of your routine this will help you to get better. Make notes of editorials and important judgements and try to form an opinion on them. You can also make a group of friends with similar interests and s=have a healthy discussion on hot topics. This will also help you to understand other's opinions.
 Tip 2 to become a good law student: Writing Skills
As you prepare for legal education you should develop high degree of written skills. Language is very important tool for a lawyer. Lawyer needs to express themselves clearly. There are specific techniques and form of written expression. Internship and experience will help in analytical writing. Focusing on your writing skills is the most important quality you can build. As we all know "The pen is mightier than the sword".  Try to write on a topic everyday with a view of improving day by day. You need to make your point clear without misinterpretation by others.
Tip 3 to become a good law student: Oral Communication and Listening Skills
As a lawyer you need to speak clear, crisp and precise. You should have an excellent listening skill to understand your clients and others. Before coming to law school, one needs to develop basic speaking and listening skills by participating in debate, making presentation. Communication is the key for lawyers. Being good in communication will also help you to develop good inter personal relationships with your clients and colleagues
Tip 4 to become a good law student: Research Skills
Many research techniques are specific to law. You will develop this skill during your law college. However, it would be an advantage to come to law school having experience in research. You are not expected to know everything, but you should know how to find information you need. Nowadays a lot of resources are available. You can subscribe to journals and research papers or you can also join a library. Research is the core of Law so you need to be good at it. Develop this skill as much as you can.


Tip 5 to become a good law student: Time Management
Most important thing is proper time management. Once you start your law school you will have lot of assignments and you need to manage your time well to enhance your skills. Make a to do list and prioritize your work. A lot of great things come with being a law student, but not in first year. In reality, the first year is the most difficult and most significant year of law school. You will deal with confusion and anxiety. Try not to get overwhelm and handle the situation calmy. You also need to keep some time for yourself and your personal development