If you are confused about Difference between LSAT CLAT and AILET, this article will help you. Difference between LSAT, CLAT and AILET is not much and you can also take these exams simultaneously. Difference between LSAT CLAT and AILET syllabus is more or less the same so you can prepare for them together. Knowing the Difference between LSAT CLAT and AILET will also help you to understand which exam to take as per your goals.
Difference between LSAT CLAT and AILET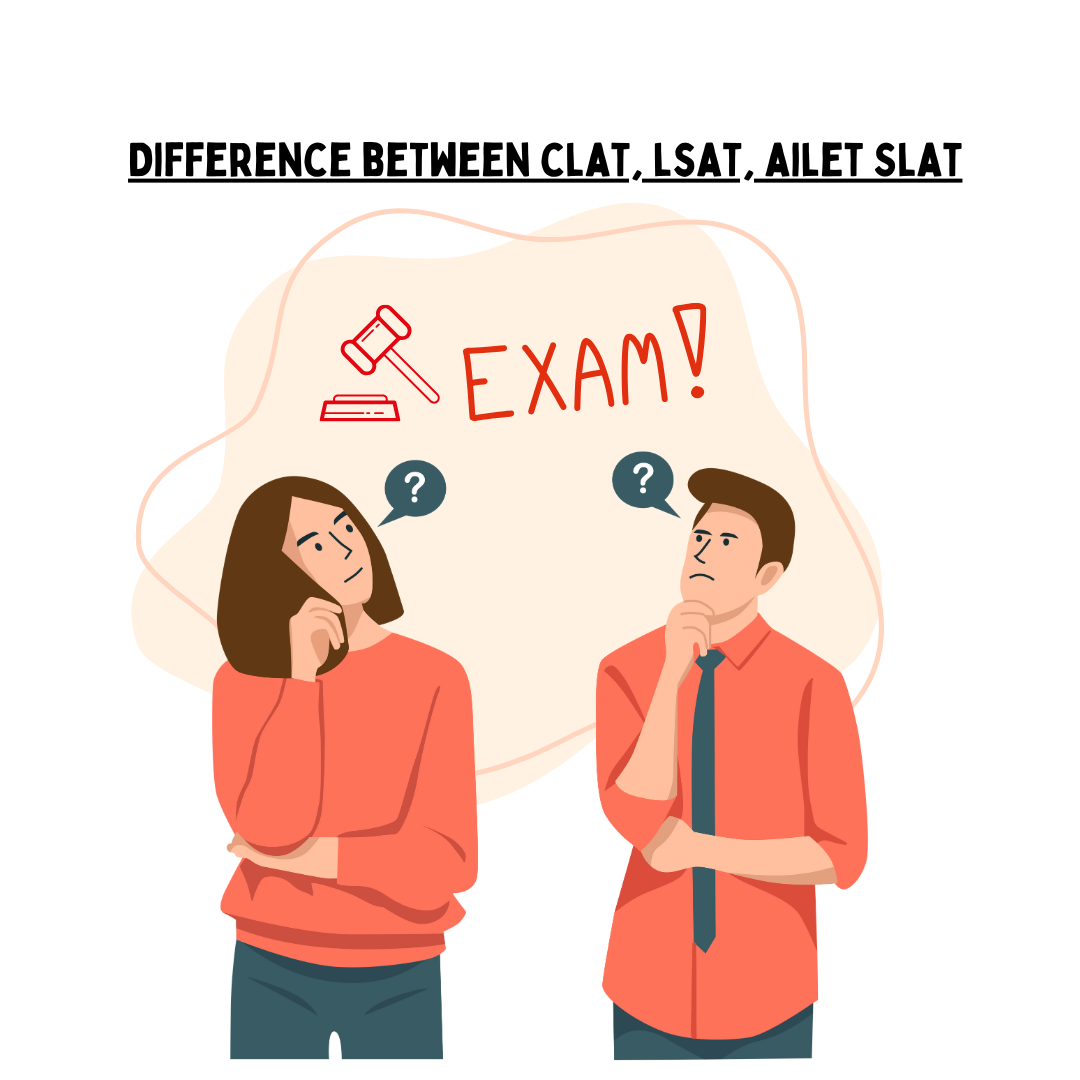 LSAT:
The Law School Admission test (LSAT) is usually given by the aspirants who want to pursue law education outside India, mainly in U.S.A, Canada and Australia. However, one can apply in selected law colleges within India.
Pearson VUE has opened the LSAT India 2024 registration window on August 14, 2023. The LSAT–India application form 2024 can be filled out and submitted on its official website. lsatindia.in. This year, Pearson VUE will conduct LSAT India in the months of January and May.  The LSAT India January exams will be conducted on January 20 and January 21, in remote proctored mode. The LSAT India May exams will be held from May 16 to May 19, in multiple slots. The scores of LSAT─India 2024 will be accepted by around 15 private law schools in the country.
The entire exam is divided into 3 types of sections compromising of Analytical reasoning, Reading Comprehension and Logical reasoning. Note that there are two sections on logical reasoning. There is no negative marking. Test scores will be provided as a scaled score between 420 and 480, a score band, along with percentile rank.


CLAT:
Common Law Admission test has remarkably high demand. Any Law aspirant who desires to get admission in National Law Universities needs to give this entrance test. There 22 NLUs are the participating institute. The competition is intense more than 60,000 students for very limited seats.
To prepare for CLAT one needs to prepare five different subjects which are English, General Knowledge & Current Affairs, Quantitative techniques, Legal Aptitude and Logical reasoning. General Awareness and Legal aptitude comprise the highest marks followed by Verbal Ability and Logical reasoning.
As per the CLAT 2024 exam pattern, the test will be held in offline mode, with OMR sheets and question papers. There will be 120 multiple-choice type questions in CLAT UG and 120 questions will be in CLAT LLM. All questions will be based on comprehension passages. = 1 mark for each correct answer. 0.25 marks will be deducted for each incorrect answer

AILET:
All India Law Test is conducted by National Law University, Delhi. NLU Delhi doesn't consider CLAT like other NLUs. Candidates who are interested in pursuing a career in law must take the AILET. BA LLB (Hons), Ph.D., and LLM are offered at this deemed university.
The National Law University (NLU), Delhi has already started its application process for All India Law Entrance. Interested candidates can register at the official website — nationallawuniversitydelhi.in. The AILET 2024 will be conducted on December 10
The National Law University (NLU) Delhi has revised AILET 2024 Exam Pattern. As per the new AILET 2024 Exam Pattern, the exam will be conducted for 120 minutes. Earlier, the AILET exam was held for 90 minutes. Along with this, the AILET LLM Exam 2024 will comprise of 100 MCQs all drawn from different branches of Law. AILET PhD Exam 2024 will have an MCQ format with 100 questions ( with each question carrying 1 mark): 50 based on research methodology and the remaining 50 will be from different branches of law for law aspirants, and from different branches of social sciences for social sciences aspirants.
The AILET 2024 for B.A.LL.B (Hons.) programme will have three (3) sections of 150 multiple choice questions for 150 marks in total. The duration of the examination is 120 minutes.
The three sections will be: English Language (50 questions; 50 marks), Current Affairs & General Knowledge (30 questions; 30 marks), Logical Reasoning (70 questions; 70 marks).
There will be Negative Marking in AILET 2024. The criteria for negative marking will be based on the formula 0.25*4=1 that means per wrong answer 0.25 Marks will be deducted. Therefore, four wrong answers will lead to deduction of 1 Mark.
Difference between LSAT CLAT and AILET is less. However, there are minor changes in the pattern and subjects.
In India, there are different national and State level law selection exams which are organized for admission of student in an undergraduate & post graduate program. One can either seek BA LLB, BBA LLB, B.SC LLB after 12th standard examination or they can pursue 3-year LLB after graduation. The major difference between graduation courses is BA LLB covers arts subject with law BBA LLB covers subjects related to management and B.SC LLB covers subjects related to science along with LLB.