Common Law Admission Test has remarkably high demand. Any Law aspirant who desires to get admission in National Law Universities needs to give this entrance test. Don't worry if you can't get into NLUs. There are various private colleges accepting clat score and provide decent packages.
Law courses are one of the most popular courses apart from the mainstream science and technical courses. There are lots of private colleges accepting clat score. Students can opt for law courses from the top private colleges accepting clat score in India at undergraduate, postgraduate, and Ph.D levels. Apart from academic excellence, those who wish to make a change in society and fight against the wrong deeds happening around them are the most desirable candidates to pursue law courses. 
Judicial is the most powerful sector that maintains the law in the country and it's the profession with the top responsibilities. Every organization needs a legal department, so it can be determined that the job opportunities will always be higher in this discipline. private colleges accepting clat score can open new avenues for you.
Since past few years, getting into an NLU has been quite difficult. This is because increasing number of competition. The number of students appearing for CLAT has been increasing year on year. With lots of classes available and services like mock test series, students have been preparing better and hence the competition is huge and therefore getting into private colleges accepting clat score has also become quite challenging.
The main aim or goal of a students should be to get into an NLU but one should also be prepared for unforeseeable events. Please go through the below list and be acquainted with the top private colleges accepting clat score.
Private Colleges Accepting CLAT Score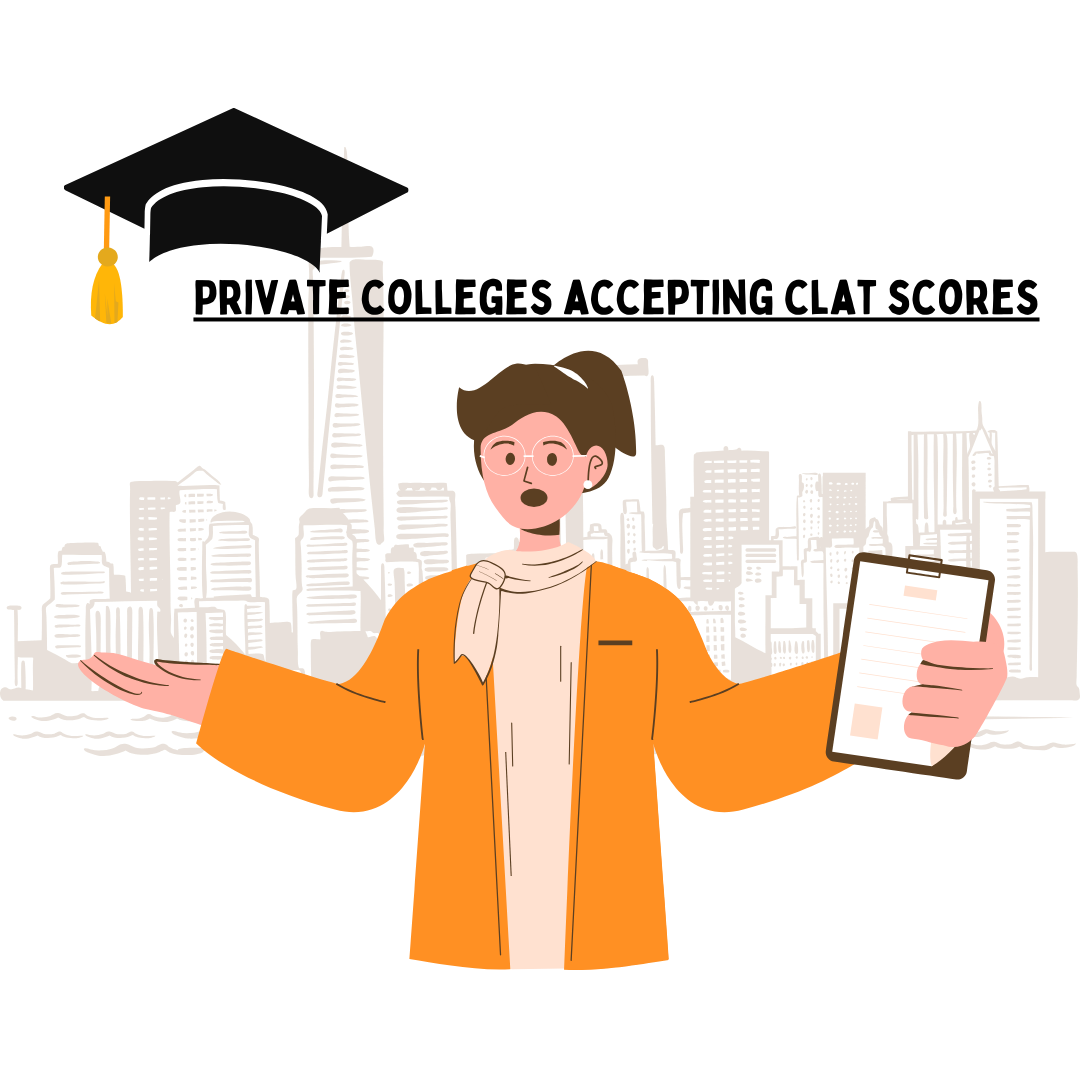 Institute of Law, Nirma University, Ahmedabad, Gujarat

Usha Martin University, Ranchi, Jharkhand

Indian Institute of Management (IIM), Rohtak, Haryana

UPES, Dehradun, Uttarakhand

Indore Institute of Law, Indore, Madhya Pradesh

ICFAI Law School, ICFAI University, Dehradun, Uttarakhand

ITM University, Raipur, Chhattisgarh

Kirit P. Mehta School of Law, SVKM's NMIMS (Deemed-to-be-University) Mumbai, Maharashtra

Jaipur National University, Rajasthan

Techno India University, Kolkata, West Bengal

Asian Law College, Noida, Uttar Pradesh

Siddharth Law College, Dehradun, Uttarakhand

Delhi Institute of Rural Development, Delhi

School of Law, Presidency University, Bengaluru, Karnataka

Fairfield School of Law, FIMT, Delhi

The Raffles University, Alwar Rajasthan

GITAM School of Law, Visakhapatnam

Raksha Shakti University, Ahmedabad, Gujarat

IFIM Law School, Bangalore

RNB Global University, Bikaner, Rajasthan

SAI University, Chennai

Kalinga University, Chhattisgarh

Shri Ram Murti Smarak College of Law, Bareilly Uttar Pradesh

United world School of Law, Karnavati University, Gandhinagar, Gujarat

Shri Vaishnav Institute of Law, Indore, Madhya Pradesh

Law College Dehradun, Uttaranchal University, Dehradun, Uttarakhand

SRM University Delhi-NCR, Sonepat, Haryana

Lloyd Law College, Greater Noida, Uttar Pradesh

Universal Law College, Chandigarh, Punjab

Arka Jain University, Jharkhand  

MIT World Peace University, Pune, Maharashtra      

Aryans College of Law, Rajpura, Chandigarh, Punjab  

Nancy College of Law, Samana, Patiala, Punjab

IMS Unison University, Dehradun, Uttarakhand

National Forensic Sciences University, Gujarat

School of Law, JIMS Engineering and Management Technical Campus,  Greater Noida, Uttar Pradesh

School of Law, Oriental University, Indore, Madhya Pradesh

Maharshi Law School, Maharshi University of Information Technology, Delhi

Sanskriti University, Mathura, Uttar Pradesh

Academy of Law, Mahatma Jyoti Rao Phoole University, Jaipur, Rajasthan

Alliance School of Law, Alliance University, Bangalore, Karnataka     

Apex University, Jaipur, Rajasthan

Amity Law School, Amity University, Noida, Uttar Pradesh    

Manipal University, Jaipur, Rajasthan

Marwadi University, Rajkot, Gujrat

Mangalayatan University, Jabalpur, Madhya Pradesh

Mewar University, Rajasthan
Others:
Apart from the private colleges accepting clat score, there are also some organisations/Public Sector Units (PSUs) that will take CLAT 2024 scores of postgraduate students into account as part of their recruitment process. Some of these corporates are:
Oil and Natural Gas Corporation Limited (ONGC), Dehradun
Power System Operation Corporation Ltd
Bharat Heavy Electricals Limited
Indian Oil Corporation Limited (IOCL)
National Thermal Power Corporation Limited (NTPC)