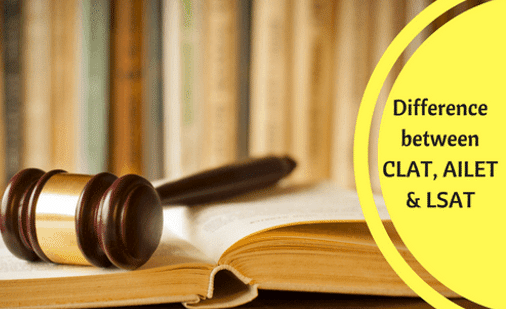 In India, there are different national and State level law selection exams which are organized for admission of student in an undergraduate & post graduate program. One can either seek BA LLB, BBA LLB, B.SC LLB after 12th standard examination or they can pursue 3-year LLB after graduation. The major difference between graduation courses is BA LLB covers arts subject with law BBA LLB covers subjects related to management and B.SC LLB covers subjects related to science along with LLB.
LSAT:
The Law School Admission test is usually given by the aspirants who want to pursue law education outside India, mainly in U.S.A, Canada and Australia. However, one can apply in selected law colleges within India. The entire exam is divided into 3 types of sections compromising of Analytical reasoning, Reading Comprehension and Logical reasoning. Note that there are two sections on logical reasoning. There is no negative marking but the questions are complicated and there is time limit of 35 minutes for each section. Student needs to complete 100 question within 2 hours 20 minutes. The score is based on percentile. The success rate to get into LSAT colleges comparatively high than getting into college through CLAT and AILET.
CLAT:
Common Law Admission test has remarkably high demand. Any Law aspirant who desires to get admission in National Law Universities needs to give this entrance test. There 19 NLUs are the participating institute. The competition is intense approximately 50,000 students for 2400 seats. There are 200 questions. It has negative marking. Minimum score needed to get into is in the range of 125-150. CLAT exams will now be conducted offline. To prepare for CLAT one needs to prepare five different subjects which are English, General Knowledge & Current Affairs, Math, Legal Aptitude and Logical reasoning. General Awareness and Legal aptitude comprise the highest marks followed by Verbal Ability and Logical reasoning. Total time to solve these questions is 120 minutes. The success rate is around 6 percent.
AILET:
All India Law Test is conducted by National Law University, Delhi. For Graduation programs it doesn't consider CLAT like other NLU. In 2019 it ranks second in National Institutional Ranking framework, law ranking. It has 150 questions which needs to be solved within 90 minutes. Weightage given to math in AILET is comparatively less compare to CLAT. This test has negative marking. The subjects are similar to CLAT i.e. are English, General Knowledge & Current Affairs, Math, Legal Aptitude and Logical reasoning. General Awareness and Legal aptitude however the weightages differ. More than 18,000 students appear for mere 70 seats excluding the Foreign nationals so the success rate is 0.003 percent.
All three entrance tests are similar. However, there are minor changes in the pattern and subjects